[By Miranda Daughs]
Thanksgiving Day! Never did I imagine that I would be spending it in Leon, Nicaragua.  So many miles away from family, with brothers and sisters in Christ whom I have known only for a short while but already love with my whole heart. Some of the team, myself included, had never spent a Thanksgiving away from family or friends, so the day was naturally a bit emotional at the start. There were lots of Facetime calls home, and maybe some reminiscing about the green bean casseroles in the past.  Don't even get me started on the cranberry sauce. Do they have cranberry sauce in Nicaragua?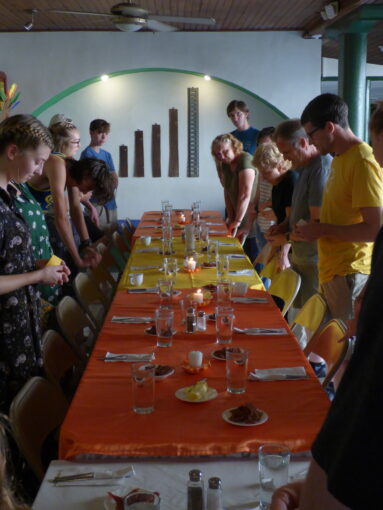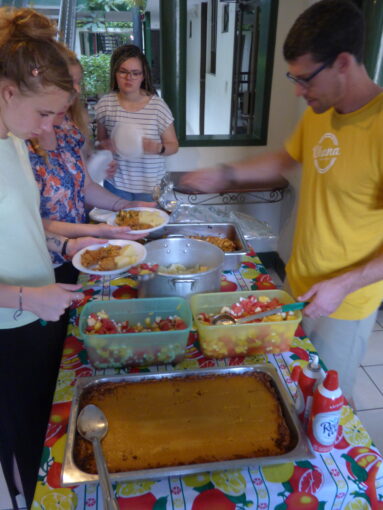 In the afternoon we gathered for a seriously impressive Thanksgiving lunch Val and Becca prepared for us, they worked so diligently to cook dishes that we would traditionally have, stuffing and home-made pie were just a couple of things that made it feel just a bit like home. Along with this great meal, Hannah C. put together an art contest, and each of us constructed with various art supplies a favorite memory or craft that reminded us of Thanksgiving. I made a pumpkin pie out of construction paper and napkins, but Jesse's Donald Trump pardoning a turkey took the win.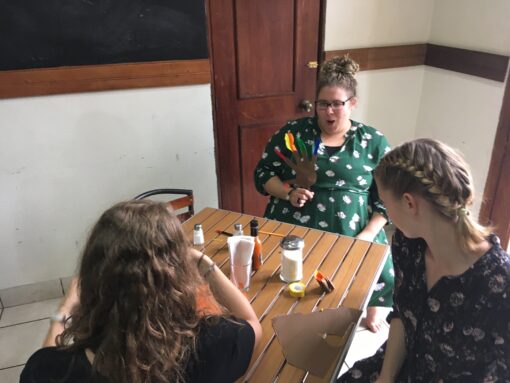 It had already been such a blessed day, filled with so many things to be thankful for, but little did we know even more was to come.  Everyone headed to the church at 6 PM for the Thursday night service, but we were surprised to see that when we opened the front doors and stepped inside, the regular aisles of chairs were gone.  They had been replaced with a line of tables beautifully decorated for Thanksgiving, and on the projector above a photo that read "Happy Thanksgiving ACTS Team!" I, and I think everyone else, was so moved to see how Kenia, Omar, Pastor Pedro, Pastor Felix, and everyone else from the church had so selflessly taken their time, finances, and efforts to bless us with something specifically to make us feel cared for and loved. For every moment of being with the kind people of ICC church, the team has been cared for without question. I personally have never seen a people so gracious with their time and resources, it is truly inspiring to see how people with next to nothing can willingly and without hesitation serve us in so many ways.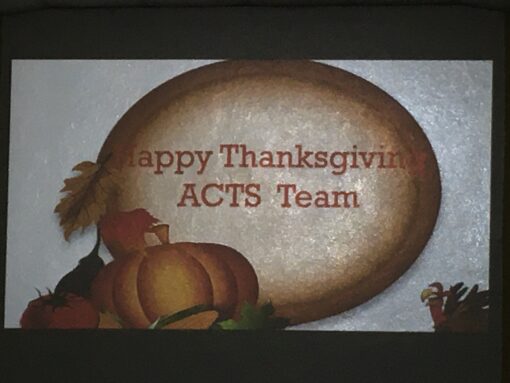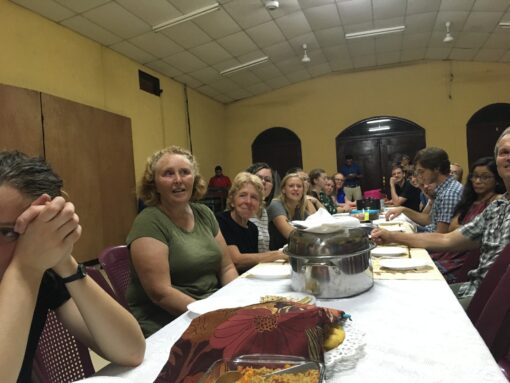 The church members brought out dish after dish of delicious authentic Nicaraguan food, which seemed to never end. Just when I was sure I couldn't eat another bite there came more platers of something fantastic.  There was rice, beans, turkey, beef, quesadillas, casseroles, deserts, etc, all prepared by the community for us to enjoy. At one point during the meal, Pastor Felix got up and offered a platter of cookies to us, and as he walked around, I saw a look of pure joy and compassion on his face that was so sincere and compelling.  Him, and all the other members, who by the way waited to make sure the team ate first and didn't sit with us until they were convinced that we had everything we needed, served us with the love of Jesus in a way that we did not deserve. We came to Nicaragua to serve these people, but in that we are also being served so sufficiently.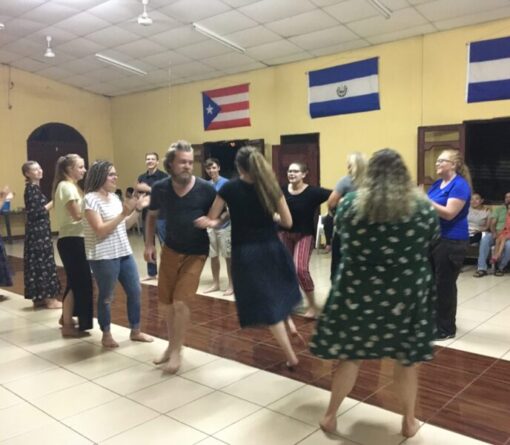 After the wonderful meal we showed everyone a barn dance that we learned a couple months back, and after some light persuasion we convinced some of the kids and even some adults to join in! Eli is a great instructor and soon had everyone dancing their hearts out. By the end of the night everyone was sweaty, laughing, and smiling wide.  What better way to end a day than that?!  My heart was full, but also humbled beyond words. Even just today I could list countless things I am thankful for, but to name just a few: I am thankful for the wonderful friends we have made here, and the way they bless our team daily. I am thankful for the way God showed us so blatantly that Nicaragua is where we were called to come, and I am thankful for the memories and impacts that are being made in and on our hearts, and in the lives of our team people around us.  We're so thankful for all your prayers and love, have a blessed day!