[by Henrik Pellicer]
Sunday morning, November fifteenth.
The Lord is continuing to guide us through Central America as He wills!
Waking up in a Hotel San Juan de Leon at 8 am almost feels like I'm still in bed and dreaming. After our adventure yesterday between the borders of Costa Rica and Nicaragua that ended at 3 am with our whole team safely at our destination, it feels surreal to open my eyes to a a simple, clean, wonderfully cool room.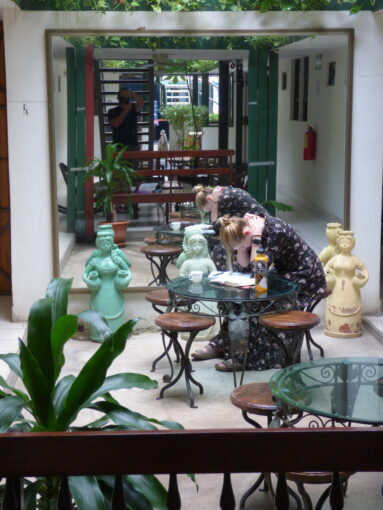 The hotel and staff are such a gift from God to our team, and even those who usually get up at dawn enjoyed the real rest we got here on our first night. Coffee (of course), guava, and pineapple juice with our amazing breakfast made everyone smile as we thanked our hosts sincerely.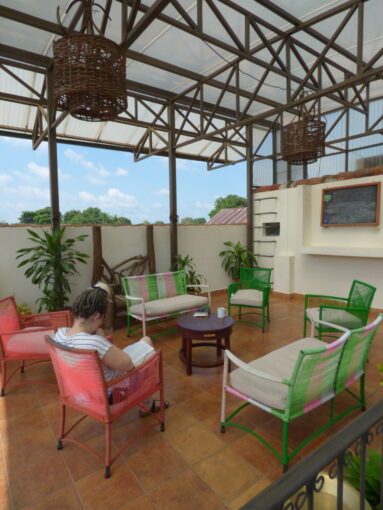 Before our morning meeting and devotion, a lot of the students walked around the little hotel and admired the hanging plants from the wrought-iron railings in the open center courtyard above the sitting areas and pool. We went up to the terrace and listened to the worship music being sung in the church next door. If it weren't for the golf ball-sized mosquito bites all over me, I'd have to pinch myself to make sure I was awake.
Seeing how this team has matured and grown in faith by the Holy Spirit over the time we've been together at ACTS is so encouraging, and this outreach is already helping us to grow in Him even more. As we met in the hotel lobby to pray and talk about the day, many shared what God has been showing them in His Word about His providence and our response to His divine sovereignty in all situations. It has been humbling to see the example of our servant-leaders as they deal with the logistical challenges and many unknowns in each country with faith and joy.
We are so immensely blessed by our hosts here in Nicaragua as we were at Rice and Beans in Costa Rica! Omar and his team waited patiently for hours at the border for us to be allowed through, and then packed us up and drove us for hours to our hotel, only to get up a little while later for church and then take us all now a walking tour of León.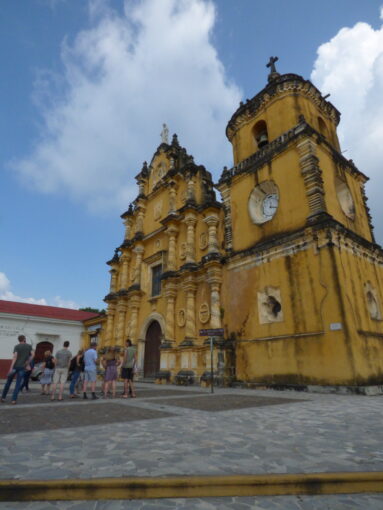 This colonial city is a beautiful reminder of the way that Spain brought its way of life and religion to many parts of the Americas. There are so many massive basilicas that are at least 250 years old, and some central parts of the city date back to the 1500s.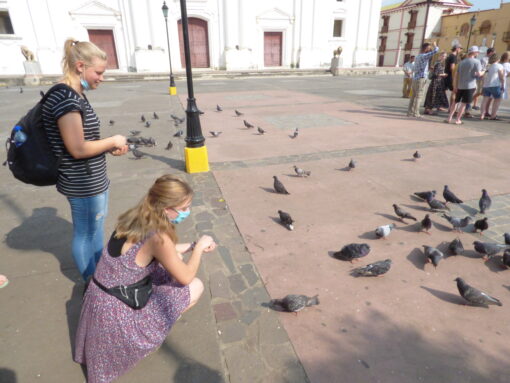 Omar continued the history lesson as we walked the grid of streets, lined with shops, restaurants, churches, and hotels. He told us why so many of the newer buildings were empty and why were the only "white tourists" walking around attracting plenty of attention. This country's political woes have continued right through 2018 when a major shift in power caused a halting of life as usual. I pray that in this environment, our example to the nationals here is Christ-like in every way and that God will be glorified in and through us as we serve.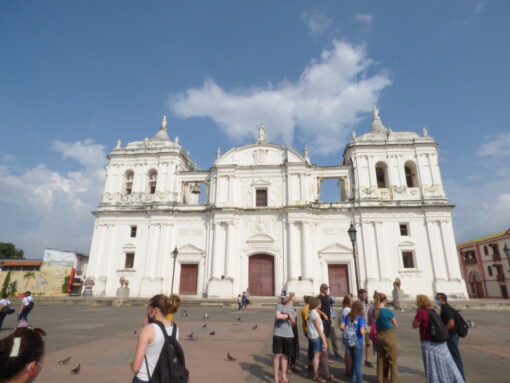 Every afternoon or evening here in Central America has been washed with rain! Tonight as we got ready to go to Pastor Felix's (Pedro's brother) church, the whole city was painted with a deep sepia tone as another possible tropical storm or even hurricane moved on its projected path. The downpour was only a couple of hours luckily, and the sound of the fat raindrops on the metal roofs everywhere during the sermon was comforting and not accompanied by wind.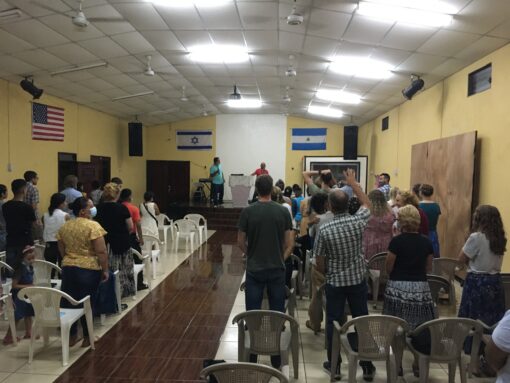 Pastor Felix taught on the passage in John 15:1-11 where Jesus is explaining to the disciples that they cannot bear fruit unless they abide in Him. Feel preached to the Latin congregation as Oscar translated right along in step. He explained that our actions or deeds, if done in our own power will not produce fruit; but if we abide in God, we will bear much fruit and so prove to be disciples of God. It was a perfect message for all of us as we deal with the day-to-day decisions on this mission field, and need constantly to give all things to God and keep Him first in our hearts.
Bouncing back to the hotel in the back of a canvas-covered truck, hanging onto the bars overhead was a great reminder of how dependent on God we are for our safety and how when we abide in Him, not only does He protect us, but He provides all good things to us. Even if we don't recognize that now, or even here in this life, as we spend eternity with Him, I am confident He will take pleasure in revealing the mysteries of His master plan, with His gospel and how that played out in all of our lives!